Below we have listed out the most common pool table sizes and the amount of room that they require in order to achieve optimal playing conditions. We have also listed some tips on what you should look for in a new pool table and a few of the things to keep an eye out for when purchasing a used pool table. Feel free to contact us if you have any questions that are not answered below.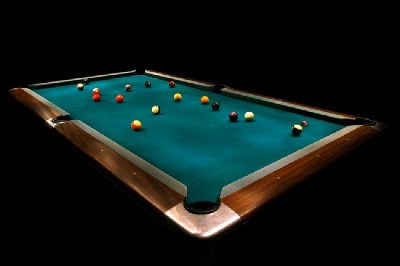 7 Foot Table Size: 3.5' x 7' 8 Foot Table Size: 4' x 8' 9 Foot Table Size: 4.5' x 9'
Cue Size / Room Size Cue Size / Room Size Cue Size / Room Size
48" / 11'3" x 14'6" 48" / 11'8" x 15'4" 48" / 12'2" x 16'4"
52" / 11'11" x 15'2" 52" / 12'4" x 16'0" 52" / 12'10" x 17'0"
57" / 12'9" x 16'0" 57" / 13'2" x 16'10" 57" / 13'8" x 17'10"

~ Measure out your total available space to determine the size of your table. Pool tables range from 7 feet to 10 feet and are primarily half as wide as they are long.

~ Take into consideration the fact that you may need more than just room for the table itself. Ideally, you need to have a 5'-0" clearance all around the table's perimeter.

~ Keep in mind when buying a used pool table from anywhere, you really don't know it's true history. You don't know how may times it has been re-felted and/or moved. Moving a pool table even once can cause a lot of wear and tear making it harder to level and restore to original form, especially if it was not done by a professional pool table tech.

~ Some pool tables are moved and refinished by either amateur installers or "do it yourself-ers" which can many times cause damage the tables interior frame, slate, and hardware. There are specific ways that pool tables need to be broken down and reassembled in order for the pool table to remain in top shape.

~ Look on the internet at the construction features of the most expensive tables. The best tables have three-piece, 1+ inch-thick wood backed slate; solid hardwood frames rather than wood laminates; rails bolted through the slate with the nuts inside the rails; and K-66 contoured cushions.

~ Notice that many tables have slanted sides. Slanted sides are usually stronger. Also look up underneath the table to inspect the way the cross beams connect to the outside frame and how the legs connect to the rest of the table. You want a good sturdy looking hardwood frame and solid metal hardware, brackets, and corner miters.

~ Focus your attention on the most essential element of the pool table - the playing surface, which consists of the cloth, the rails and the cushions. Choose a felt color that suits your style, but also keep in mind that you want to be able to play on it without too much distraction or straining of the eyes.